SMS Messaging/Texting
Our currently offered plans include the ability to send and receive messages through your toll free number or local number with 800.com.
This feature will be enabled by default. You can enable or disable this feature at any time by selecting the "Numbers" category from the column on the left of the online portal and clicking the SMS toggle on or off for a specific number.


Older plans that are no longer offered do not include SMS functionality. If your plan does not include this feature, there is an additional monthly charge of $10 for this feature on this number. If this is the case, a window will open to confirm you would like to enable this feature when you toggle it on.
Notifications:
We recommend configuring your notification settings for every number you wish to receive text responses to. For SMS or voicemail notifications, you will need to select the "Numbers" category from the column on the left of your browser window.

From here, you can either click on the number for which you wish to edit your preferences or you can hover over the 3 dots on the right and select "Manage" from the options that appear.

You will then need to enter the "Notifications" category. From here, you can then enter where your SMS and voicemail notifications are to be sent.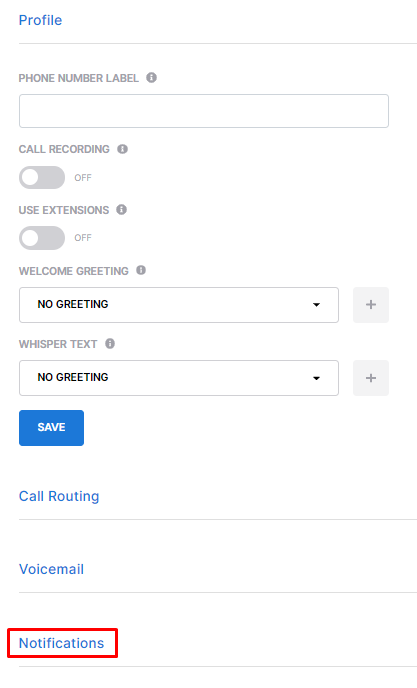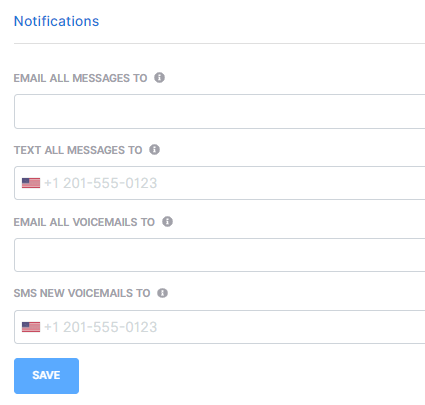 Sending Messages:
To send messages you will need to select the "Inbox" category from the column on the left of your online portal.

From this page, you will see a "New SMS" button on the upper right of the page.

When clicked, you will see a drop-down to choose which number you will be sending a message from. To the right of the drop-down there will be a box for you to enter the recipient's telephone number and underneath you will find the box where you will enter the body of the message. When finished, you can click "Send SMS" from the bottom right of the SMS box.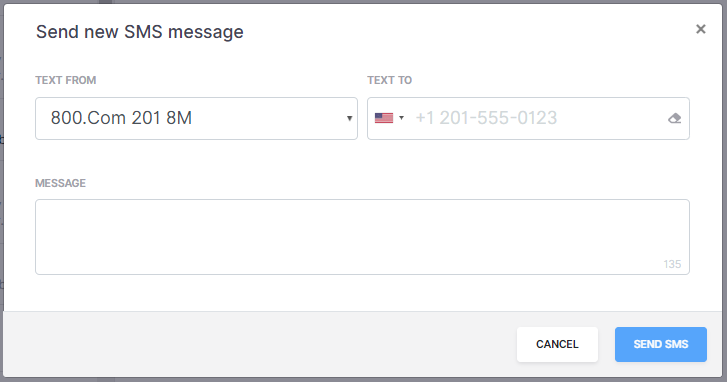 Receiving Messages:
You will also see your received messages in the "Inbox."
Our plans also include the ability to configure Mass Texting/Campaigns which include a specific number of credits according to the plan for which you are enrolled (50 for Personal, 500 for Unlimited, and 1000 for Pro). All additional credits are charged at a rate of $0.06 a piece.