Configuring call routing/forwarding settings
Call Routing:
In order to have calls to your toll-free number forwarded to another number, you will need to set up call routing.

When logged in you will see a column on the left side of your screen. You can access your preferences by selecting the categories shown in this column. For call routing, you will need to select the "Numbers" option.

From here, you can either click on the number for which you wish to edit your preferences or you can hover over the 3 dots on the right and select "Manage" from the options that appear.

You will then need to scroll down to the "Call Routing" category in order to enter your forwarding number.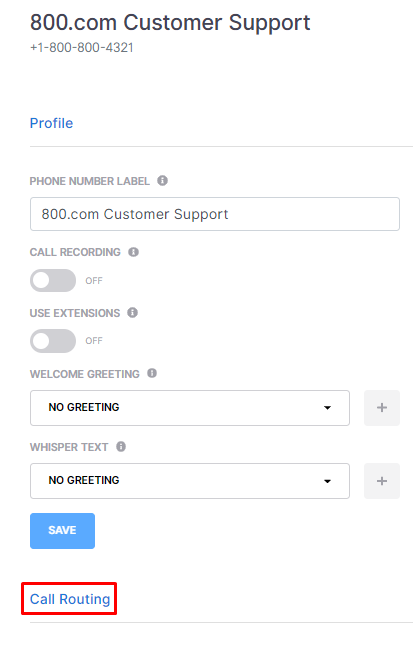 Within the "Call Routing" category you will be able to select the method of routing, add your forwarding number(s), select your Caller ID preference, and select the number of ring seconds. "Standard Forwarding" refers to having calls to your toll-free number routed to one number. "Simultaneous" transfers calls to multiple numbers at the same time. "Sequential" routes the call to the first number on a list and, if there is no answer, to the next and so forth. "Voicemail" sends the call directly to your voicemail.

For any of the 3 former options, you will need to add one or more forwarding numbers by clicking the plus button.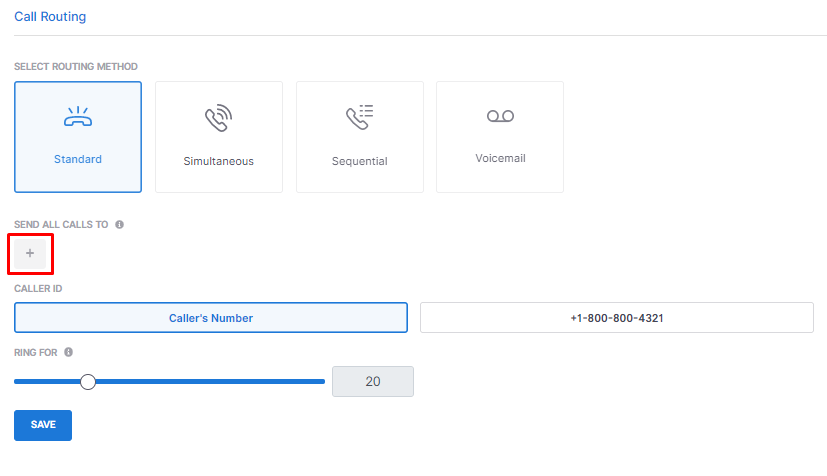 Now, you will just need to type in the number you wish to have the calls transferred to. You can also set specific time ranges calls will forward to this number on the right.

As seen above, you can change the caller ID toggle to your toll-free number (on the right) if you want your toll-free number to show up on your caller ID instead of the caller's information. Below that is your ring second slider which is set to 20 seconds by default. Repeat this process for every number you want to add.
*Note, if you don't intend on using 800.com's voicemail service you will need to extend the call seconds in order to allow your provider's voicemail system to engage. The call will disconnect at the end of the ring second limit if another service has not engaged.
Be sure to click "Save" upon completion.